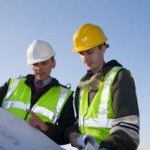 If you are a contractor who wants to include energy efficiency and Green building in your business model or need energy code compliance evaluations, there is no need to look further. Sherlock Homes have HERS raters that can help you achieve your goals.
Sherlock Homes provides energy-efficiency strategies and tests for new residential construction. Sherlock Homes can help process buildings or homes through the Energy Star, Touchstone Energy, Environments for Living, and National Association of Home Builders Green Home Program.
Sherlock Homes offers two major types of services:
1) Assistance in reviewing current construction practices
2.) Recommending improvements that will result in compliance with these programs or codes.
In order to ensure that a home meets the requirements of a program, a builder may submit the plans for a plan review. We will input information from the plans into specially designed computer simulation programs that estimates the annual energy use of both the builder's current house design and the model energy code (MEC)-based reference house. With this information, we can determine a projected HERS rating — based on plans — of the current home's design. We can then make recommendations to the builder on construction practices so as to reach each programs requirements. If you have not done so, you may want to review the Impacts of the 2009 IECC for Residential Buildings in Indiana.
Each of these programs requires two inspections. The first inspection is performed prior to drywall and generally referred to as a thermal bypass inspection (see thermal bypass checklist). The 2nd inspection is performed after the home is complete and requires the use of special testing equipment to determine house and air duct leakage. After the inspections are complete final documentation is provided.
In order to process the analysis/rating we will need to get some basic information from you:
• A set of blueprints
• HVAC information including ARI/GAMA certificates, copy of Manual J calculation. This will need to come from your HVAC Contractor
• A plan review Input Form completed as thoroughly as possible. This form allows you to select a variety of scenarios you would like analyzed. Costs associated with the various scenarios are listed on sheet 2 of the input form.
If you decide to proceed with the analysis/rating we require approximately 10 to 14 day lead time prior to each site visit.